Market Update for October 31, 2020 - Prices Likely Heading Higher
Posted by Rob Grey on Monday, November 16, 2020 at 4:58 PM
By Rob Grey / November 16, 2020
Comment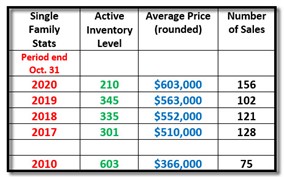 Our local market has broken a new average price point: $600,000! Single family sales in October, 2020, were brisk, particularly in the first half of the month. The average selling price was $602,905.
The pattern for pushing prices past $600,000 rests primarily on two facts - super low interest rates and super low inventories.
Inventory levels are down 39% from the same period as last year. In 2020, as of October 31, only 210 homes are actively listed, a historic low. Some of these homes may also be under contract so the true number may be lower. Inventory levels between 2017 and 2019 ranged between 301 single family dwellings (SFD) and 345 SFD. These were low based on the trends of the last 20 years.
In 2010, for example, the number of homes for sale was 603; this reflected a Post-Financial Crisis period when prices dropped, foreclosures soared, and buyers had abundant homes from which to choose, forcing sellers to adjust prices downwardly to compete to attract the few buyers in the local market place.
Note from the chart the number of sales ranged between 102 and 128 between '17 and '19. In 2010, only 75 sales; this year October had 156 sales - double 2010 sales and 50% higher than 2019.
In 2000, the number of homes for sale was 495, almost 2.5 times the October, 2020, inventory.
We are seeing highest activity between $450,000 and $700,000; competing offers are common and writing strategically smart offers is advised. I would be happy to explain what a strategically smart offer looks like - call or email me.
The other major point is interest rates: you can get a 1.79%, 5 year term from a lender. In buying my first home in 1988, my father told me to grab the rate offered by the bank - 11.75%. Of course he witnessed the 20+% rates of the early '80s.
Moving forward, I believe the rates will stay low for the foreseeable future; if inventory levels continue to stay low, interest in the central Island continues to remain high, and our prices continue to appear attractive to buyers from the larger markets of Victoria and Vancouver/Lower Mainland, then we will likely continue to see prices climb higher into the Spring market.