Market Update for November 30, 2020 - Inventories at historic lows
Posted by Rob Grey on Wednesday, December 2, 2020 at 11:43 AM
By Rob Grey / December 2, 2020
Comment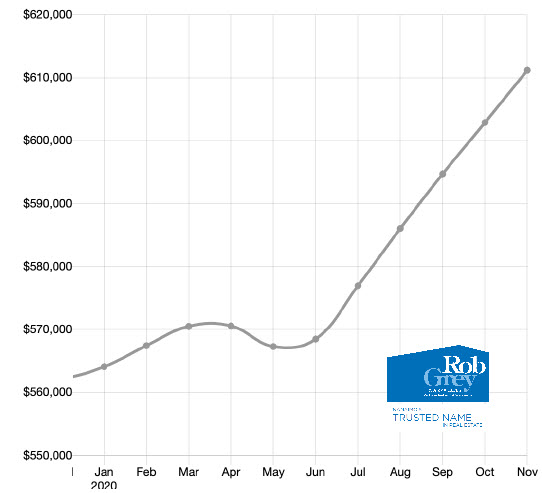 November sales in the Nanaimo market area followed a typical winter-like path with the number of single family homes dropping from 159 in September and 155 in October to 129 single family home sales in November. This is contrasted by two factors: first, the average price jumped from $603,000 to just over $611,000 in one month and the inventories dropped to unprecedented low of 144 single family homes for sale by November 30. Available homes for sale and overall sales typically begin their descent around this time each year but 2020 is unlike any other year and so we will continue to watch closely.
Multiple offers are common across most market segments and property types; in the coveted $450,000 to $600,000 range, I have seen as many as 11 or 12 offers at a time on a single listing, with some selling prices reaching more than $40,000 over list price. This is not on every listing but one should expect, if you are reasonably priced within the context of this busy upward market, to have a successful outcome.
Low rates and inventories are fueling this market despite the backdrop of worrisome economic signs. As we enter the new year, inventory levels will be the key factor to watch for pricing. Rates will be low for the foreseeable future. Obviously, I am not an economist, but I feel national governments, especially during the massive financial support for people and businesses, cannot afford to see interest rates rise as their debt levels may not sustain higher borrowing costs.