First Half 2021 Market Review
Posted by Rob Grey on Wednesday, July 14, 2021 at 7:40 AM
By Rob Grey / July 14, 2021
Comment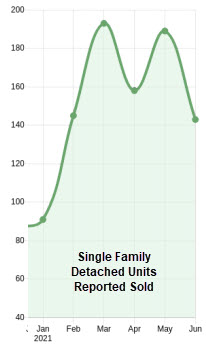 With 6 months of market stats under our collective belts, market conditions continue an unpredictable finish to the year. The Canadian Real Estate Association predicted an 18% increase in the average price of a home in Canada by this time next year. Reports of overseas Canadians moving back to Canada in the late stages of the pandemic. low interest rates, and high demand coupled with historic low inventories form the basis of this prediction.
Looking back, the low interest rates for a 5 year fixed mortgage (1.69% to 1.84%) from late 2020 through to early Spring 2021 lit a fire in almost every Canadian market. These rate guarantees slowly expired and buyers scrambled to get into the market before facing rate increases. The federal government then introduced stricter Stress Test rules and again buyers scurried to get their home purchases under contract to avoid further possible restrictions on what they could afford.
The impact on local prices has been stark with bidding wars continuing through to the end of June and into the Summer market. In June, 2020, for example, based on 143 sales, the average selling price for the benchmark single family home was $573,123; in June, 2021, the average was $756,998, or up 32.08%. Using a rolling '12 Months to Date' average, the average price at June 30, 2020 was $568,470, based on cumulative 1,045 sales over the previous 12 months; in the 12 months ending June 30, 2021, based on 1753 sales, the average price was $696,069, or up 22.45%. While the number of homes listed was up only 14%, the total number of sales was up 67.75% and compounding the low inventory levels.
The total dollar value of all sales over the last 12 months including raw land, strata, and single family, as reported on Multiple Listing Service for Nanaimo was over $1.6 billion.
The volume of sales going into the 2nd half of the year dropped off: approximately 190 homes sold in May/'21 and 143 homes in June/'21. Factors may include the tightened Stress Test Rules, people returning to their normal lifestyle with loosening of pandemic restrictions, and also Buyer Fatigue.
The tightening Stress Test Rules, which, simply defined, mean that the average buyer may be offered a 2.3% rate on their mortgage but must qualify with their household income at a mortgage rate of 5.25%, demonstrating their ability to withstand the stress of interest rate increase on their outstanding mortgage balance. This applies to federally regulated lenders and not provincially regulated credit unions.
Filled Campgrounds, busier restaurants, and long ferry line-ups indicate people clamouring to regain some normalcy in our lives. Many stories float locally about the increased cost to purchase an RV, if you can find one to buy. People are eager to get outdoors, albeit locally or regionally. This is a seasonally typical factor in slowing sales through summer; this year it is a more steroid-induced.
Buyer Fatigue is a real factor for fewer sales (although prices continue to increase). I define Buyer Fatigue as follows: buyers bidding well above the list price of a home only to be frustrated by another bid of more money or, in some cases, buyers making offers with no conditions at all. Furthermore, I add that now some buyers will see the price of a home as being at the most they can afford; not only are they not offering on the home as they feel the home will sell for more than their potential top bid, but they will choose not to look at the home at all. Hence fewer buyers physically viewing the home.
Buyer Fatigue requires a more complex approach to pricing homes. Do you price your home for what your neighbour sold for in a frenzied bidding war? Or do you price it reasonably within the context of the busy, high market and hope you get the same level of activity. More often than not, buyers will refrain from looking at your home, and offering on it, if they feel the frenzied high selling price has been factored into the list price. They will choose the sidelines.
I advise meeting and discussing the pricing options and how you feel your home fits into the current market values. Each price range has nuanced factors to weigh. I will walk you through each scenario and help you decide on a plan which is best for you.
If you are a buyer, then we can discuss what amount to offer and how to structure an offer to get an advantage.